New From DCS, 3DCS Variation Analyst for Creo Fully Integrated in PTC Creo
Dimensional Control Systems has fully integrated 3DCS tolerance analysis software into the PTC CREO CAD platform.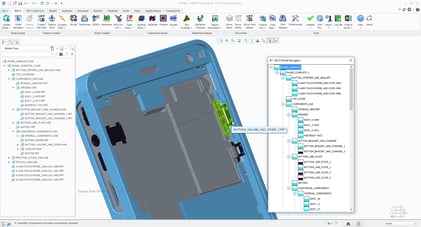 Creo joins NX, CATIA V5-6, and the 3DEXPERIENCE as fully integrated CAD platforms. This new integration allows 3DCS users to leverage Creo's tools to enhance their modeling, as well as tap into Windchill for file management and version control.
What Does an Integrated Version of 3DCS Offer?
Specifically, an integration with Creo gives users the ability to:
Store 3DCS data in their Creo Assembly - keeing all of the data in one place
Utilize Windchill - as the data is stored with the Creo model, using Windchill to manage the Creo model in turn manages the 3DCS data as well
Extract and use Creo GD&T and Joints and Constraints - Use the embedded GD&T in the CAD model, as well as Joints and Constraints to create tolerances and moves in 3DCS
Take advantage of the Creo assembly structure
Combine Point and Feature Based modeling
Gain access to seamless data sharing between 3DCS and Creo - No loss of data through translation
Create Measurement Point Coordination between Creo CAD and 3DCS