Advanced Analysis in 3DCS - PLUS Multi-Part Analysis Tools
The 2023 Webinar Series starts with a deep dive into advanced analysis and optimizers, showcasing how AAO can give you answers while making your life easier
Presented by Senior Dimensional Engineers Maria Harangus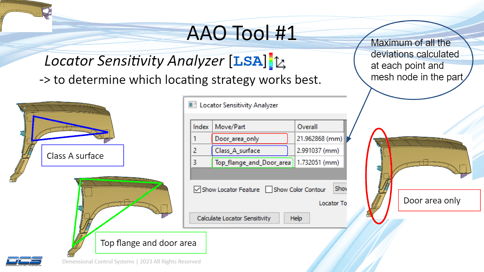 On-Demand -->
What You'll Learn from this webinar:
The Monte Carlo results predict what problems an assembly will have.
The Sensitivity and GeoFactor results predict why those problems occur.
AAO recommends solution alternatives to those problems

Agenda:
1.Locator Sensitivity Analyzer [LSA]
2.Datum Optimizer [DO]
3.GeoFactor Analyzer [GFA]
4.Critical Tolerance Identifier [CTI]
5.Tolerance Optimizer [TO]
6.Sequence Optimizer [SO]
LSA + DO: Find the best datums and use them as locating features - coordinate datums.
GFA: Visualize the relationship between each tolerance/measure pair.
CTI: Identify the critical tolerances in a model.
TO: Achieve the best quality at a minimum cost.
SO: Find the best clamping/welding sequence for overconstrained assemblies.